Member Profile
Anne & Chris Rowe
timer
| | |
| --- | --- |
| home | Kelburn, Wellington |
| work | Founders, COR Associates > |
| directions_car | Car-free since December 2016 |
| event | December 2016 |
| trending_up | 2-3 Mevo Trips/Week |
| commute | e-Bikes, Cable Car, Bus, Walking |
Anne and Chris have been with Mevo from the beginning, joining as the 14th and 15th Mevo members in the first days after Mevo's launch in Wellington. They're motivated to make the world a better place by constantly looking for ways to reduce their carbon footprint and live more lightly on the earth.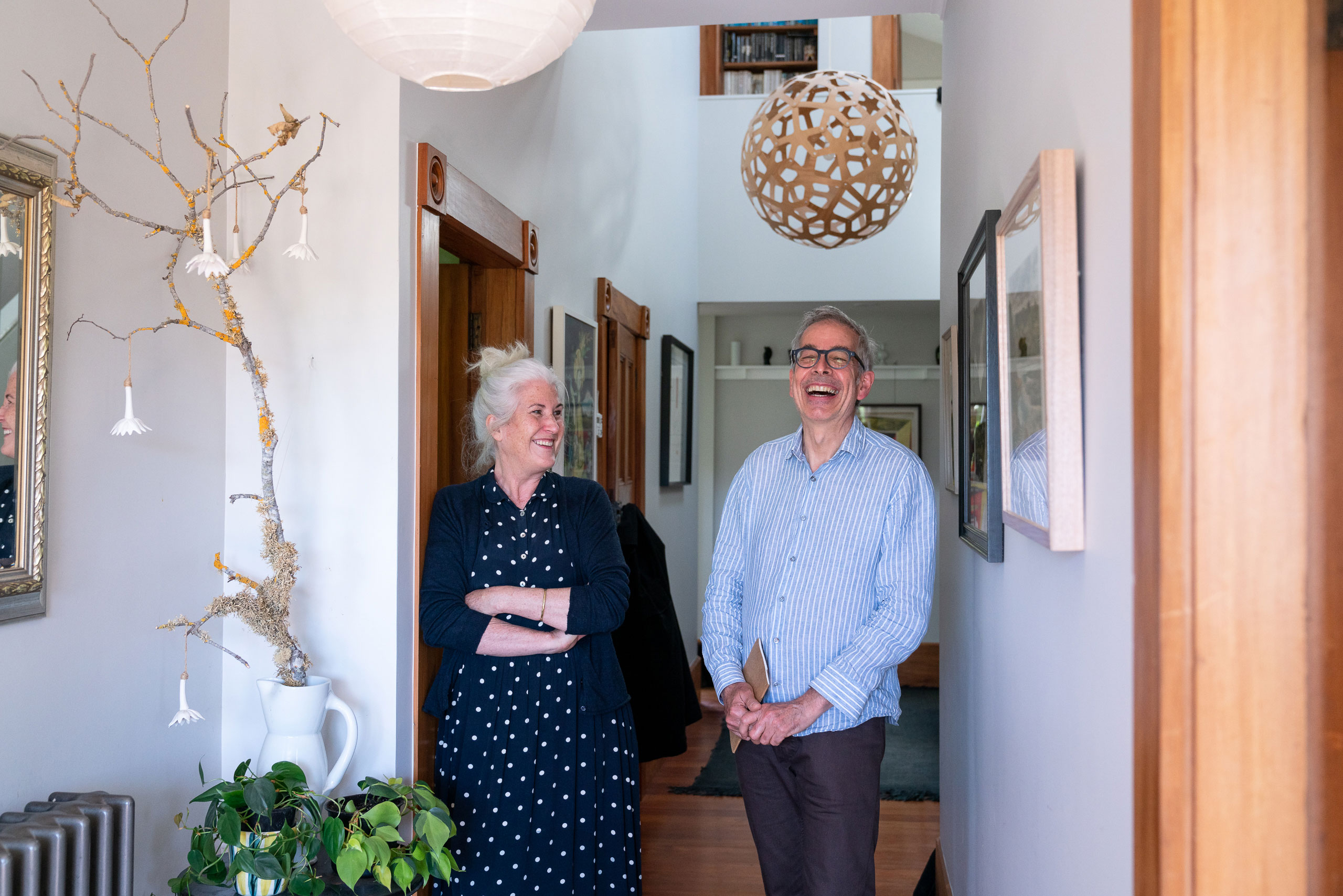 COR Associates (or CORA as it's also known) is the business Anne and Chris founded in 2009. They design building services which provide comfortable, healthy and safe internal environments for their clients.
Anne enjoys the challenge of balancing business objectives with social and environmental obligations. With this in mind, in 2015, she initiated offsetting CORA's carbon footprint through Ekos. This is the same company Mevo use to offset all of the carbon emissions from the cars by 120%.
CORA organises a yearly tree planting operation in association with the GWRC which brings Anne great satisfaction. This event grows every year, with an average of 1000 trees planted each event. Anne encourages people to contact her if they want to be part of this day. This year's event was a great success with over 1100 new trees in the ground. Mevo is a vital part of the day, providing transport for the catering team and the food.
When Anne isn't working, she has a particular interest in permaculture. As she and Chris work from home; you'll often find her sneaking out into the garden to tend her vegetable patch and compost heap(s).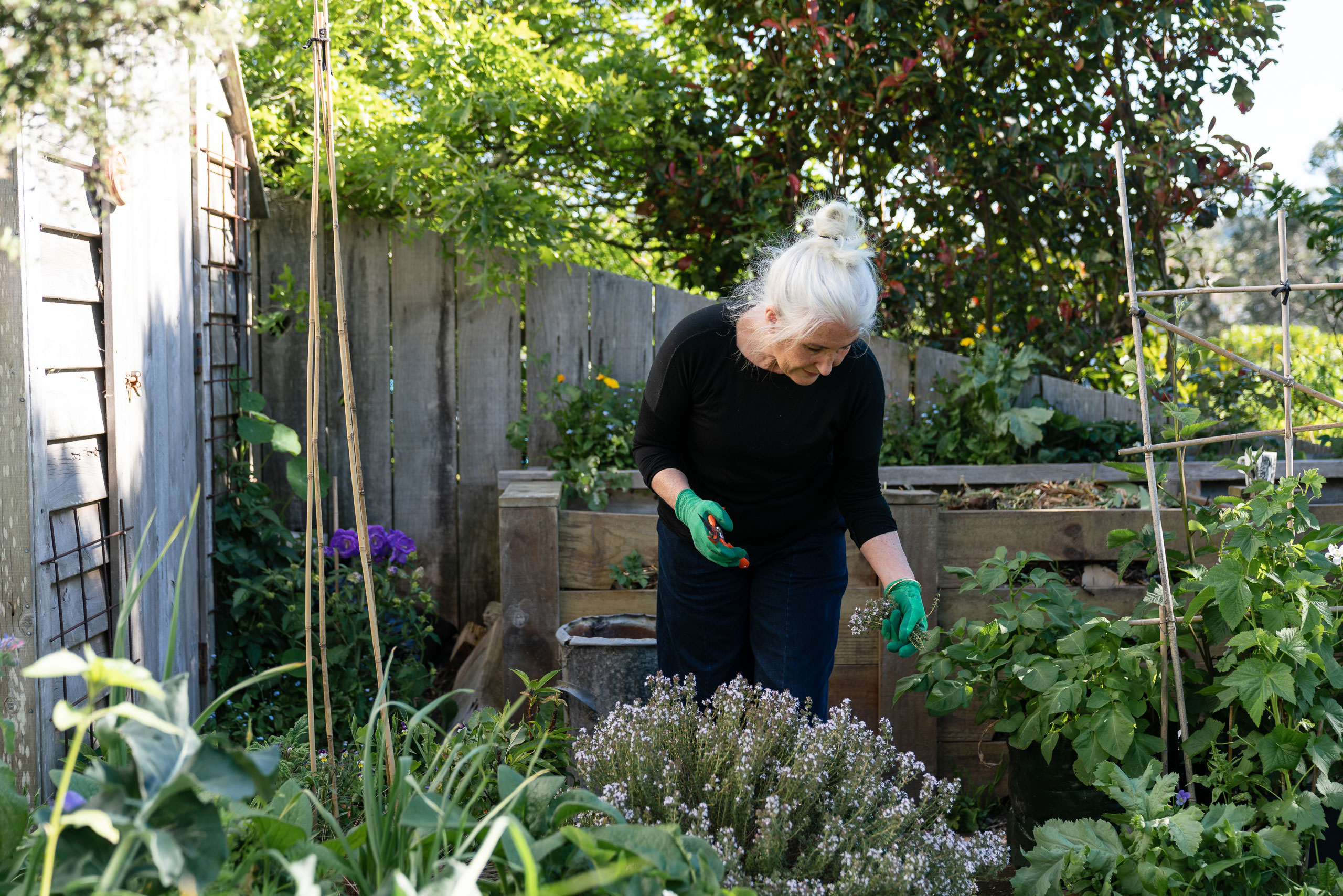 Anne and Chris had wanted to go car free for a while but the lack of good public transport and alternatives were issues they first had to get their heads around. Enter Mevo: living a five-minute walk from the Flex Zone, Mevo was the perfect way to fill the void. Since they joined, the zone has expanded enough to include their street in Kelburn and they can park right outside.
"Being able to park anywhere in the Flex Zone has been just amazing."
In 2017 the Rowes finally took the plunge and gave away their car. They've come to realise that there's less stress in their lives due to not having to worry about the "sunk costs" of car ownership - things like depreciation, flat tyres, wofs, services and that dreaded day when something breaks. They have also got a whole new space in their life: Anne is currently transforming their garage into a studio which they'd like to share as a creative space.
"One of the reasons we felt comfortable giving up our car was because of the availability of Mevo."
Around town, you will often see Anne walking or cycling on her e-bike - which is a must when you live in Kelburn. For the journeys where these two options don't quite suffice, Anne will get a Mevo - this might be the weekly shopping, when she has to travel a little further, or if it's just a cold, wet, miserable Wellington day. And of course, Chris has found having Mevo nearby a must for working from home, letting him easily duck out to a client or site visit.
The Mevo cars have allowed Anne and the family to make lovely little moments that would otherwise be tricky. Sometimes on a Sunday she will grab a car and take her brother, who has dementia, out for a drive - as he really enjoys this. With Mevo filling the gap since shedding their car, she and her brother haven't lost this time together. The ability to pick up and drop off wherever they want means they don't even have to think twice about doing this or plan in advance.
"We think Mevo is Brilliant. You are continually upgrading your product to ensure you are making it better for users. And they are just really nice cars to drive."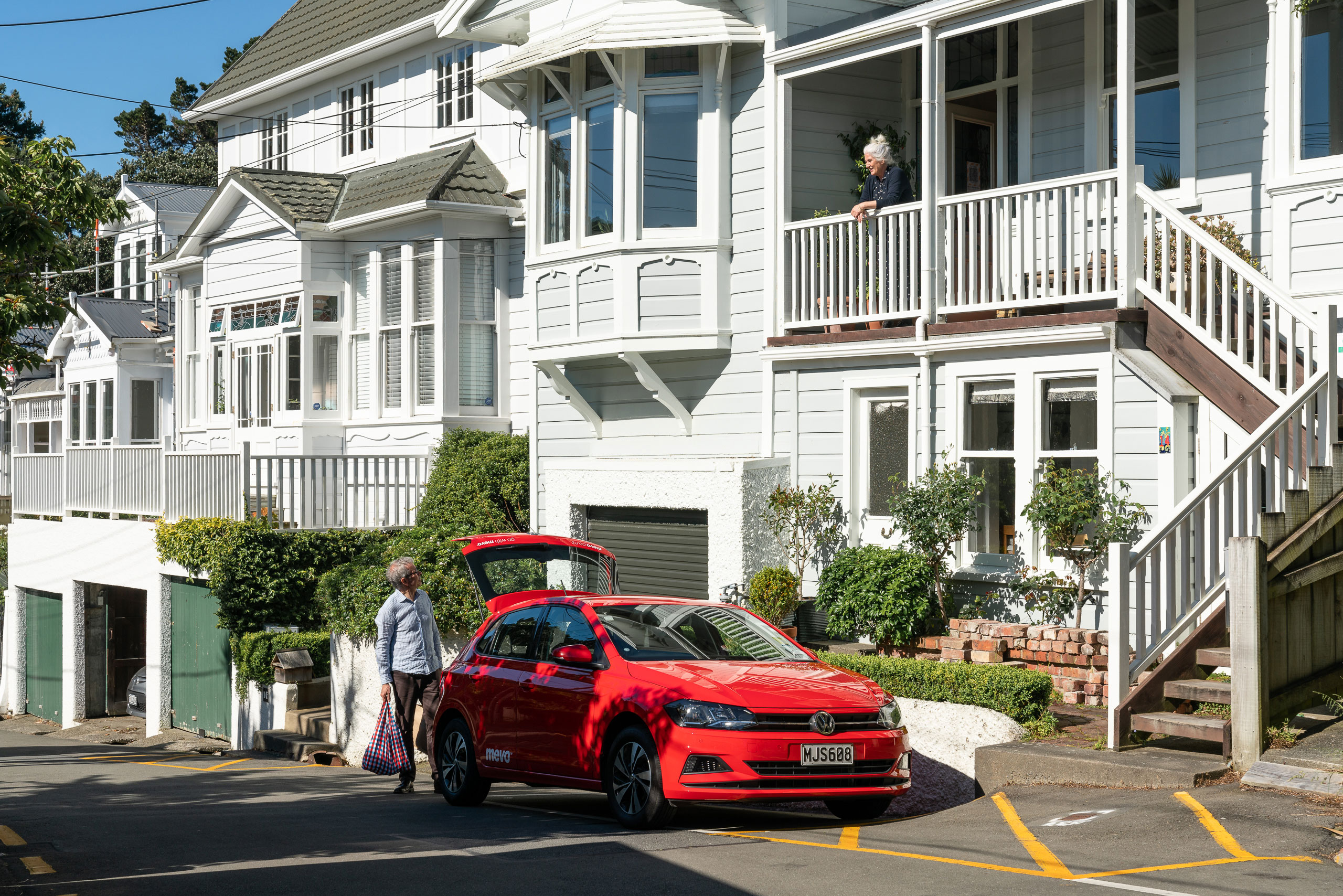 Anne sees having fewer cars in the city as a trend that Wellington and the world should follow - especially seeing as transport accounts for over 20% of New Zealand's greenhouse gas emissions. She likes to encourage her friends to try Mevo and many have become customers. One has gone from being a 3 car family to a no car family - with added bikes - using Mevo to fill in the gaps. Anne says the realisation that there are so many other ways of getting somewhere rather than using a car has been a revelation.
"It's that thing where you try and influence people by your actions so on our street we have at least one person who has given up her car as she's seen that we are living very happily without one."
Closer to home Anne is seeing changes on her street with some neighbours following in their footsteps (and bike tracks). One got herself an e-bike when her car was written off in an accident. As there are now a few of them without cars, they will sometimes do a large supermarket shop together, making a usually mundane chore a nice way to touch base with their neighbours and lend a helping hand where needed. Not having a car for weekly grocery shops, which most people would see as an inconvenience, has created a new ritual for these neighbours which helps build a sense of community.
"I'm not using the cars every day so you know, when I do go and use a car, Mevo creates these little moments, comforts and confirmations that you're doing okay and you're doing the right thing. Which is really nice."