Business Profile
Garage Project
timer
| | |
| --- | --- |
| business | Marion Street, Wellington |
| people | 20-30 |
| event | August 2022 |
| trending_up | 1-2 Mevo Trips/Week |
| widgets | Staff Travel, Airport Transfers |
Wellington-born and bred, Garage Project has always been a company with a special place in the hearts of beer fans everywhere. Garage Project always impresses with its innovation and experimentation - as well as quality in abundance. One of Garage Project's newer releases is great news for drivers everywhere: Tiny beer! Alcohol-free and packed with flavour, it's become the go-to at the Mevo office; Tiny but mighty indeed! We can now quench our thirst before jumping back in the driver's seat.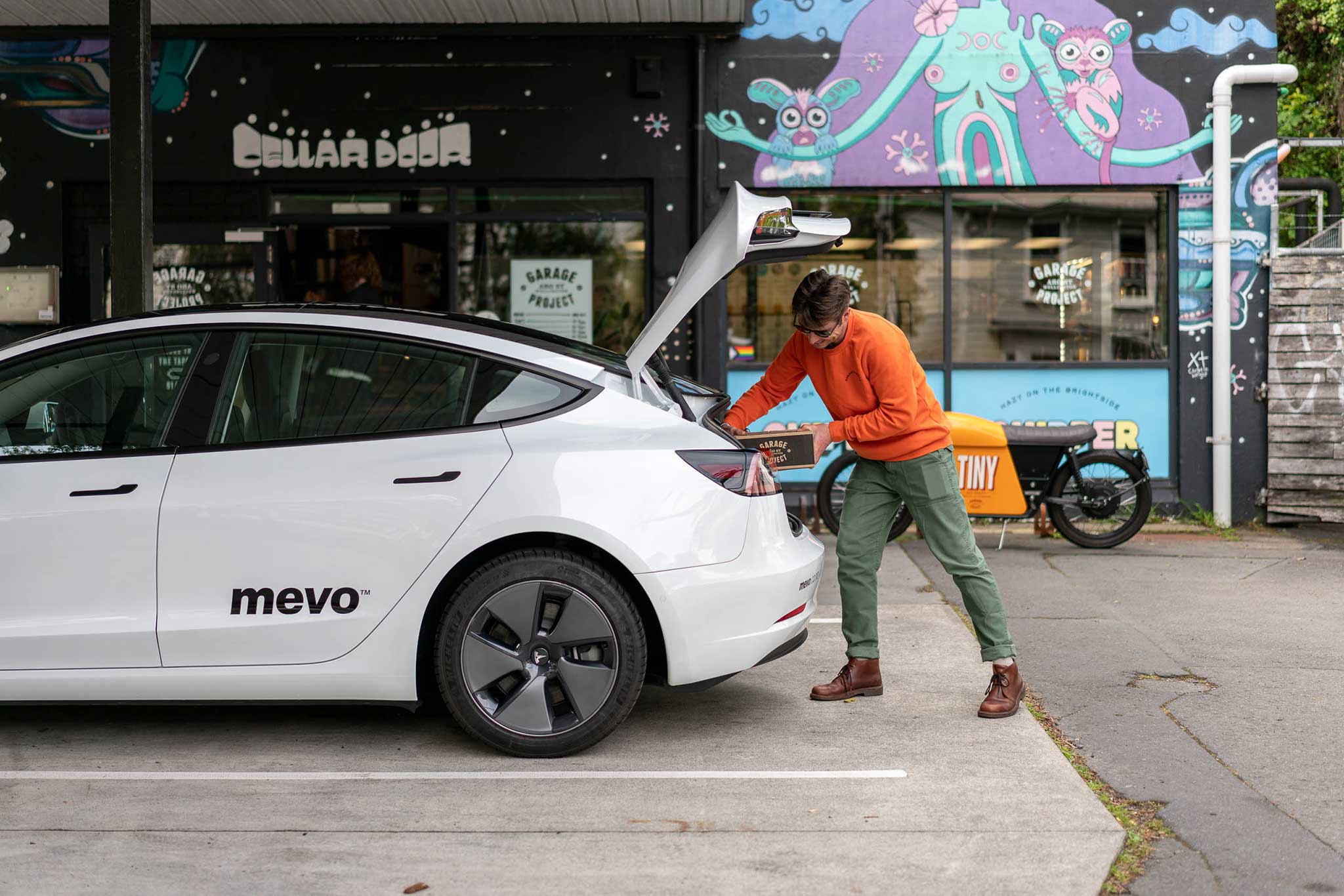 "I love to use Mevo. For me, it's a user-friendly and guilt-free way to travel."
We met the team and chatted with Crocky Hargreaves, who does sales and relations for GP. Crocky rolled up on his custom Tiny-branded FTN Motion electric bike to share about Tiny beer and Mevo. Crocky lives car-free in Wellington, taking his FTN bike and his pedal bike for most of his trips - and a Mevo for those times he needs to go further or get somewhere ASAP.
"It's a super cool, green and innovative company. It's the future."
While Garage Project's headquarters are in Wellington, they have a cellar door, bar, and office base in Kingsland, Auckland. Mevo is the first choice for the GP crew as a low emission and convenient replacement for taxis between the airport and Kingsland base. They also look to their nearest Mevo for hops around both cities when meeting with suppliers and customers.
"Our ultimate goal at GP has always been to build a business where we don't just brew beer but also look after our employees, engage with the community, throw our support behind people trying to do cool things, and try to minimise our environmental impact."
Garage Project sees sustainability as having three main Pillars; Community, People, and the Environment. Mevo's ethos of multi-modal transport and reducing carbon emissions help Garage Project fufill these as they move around.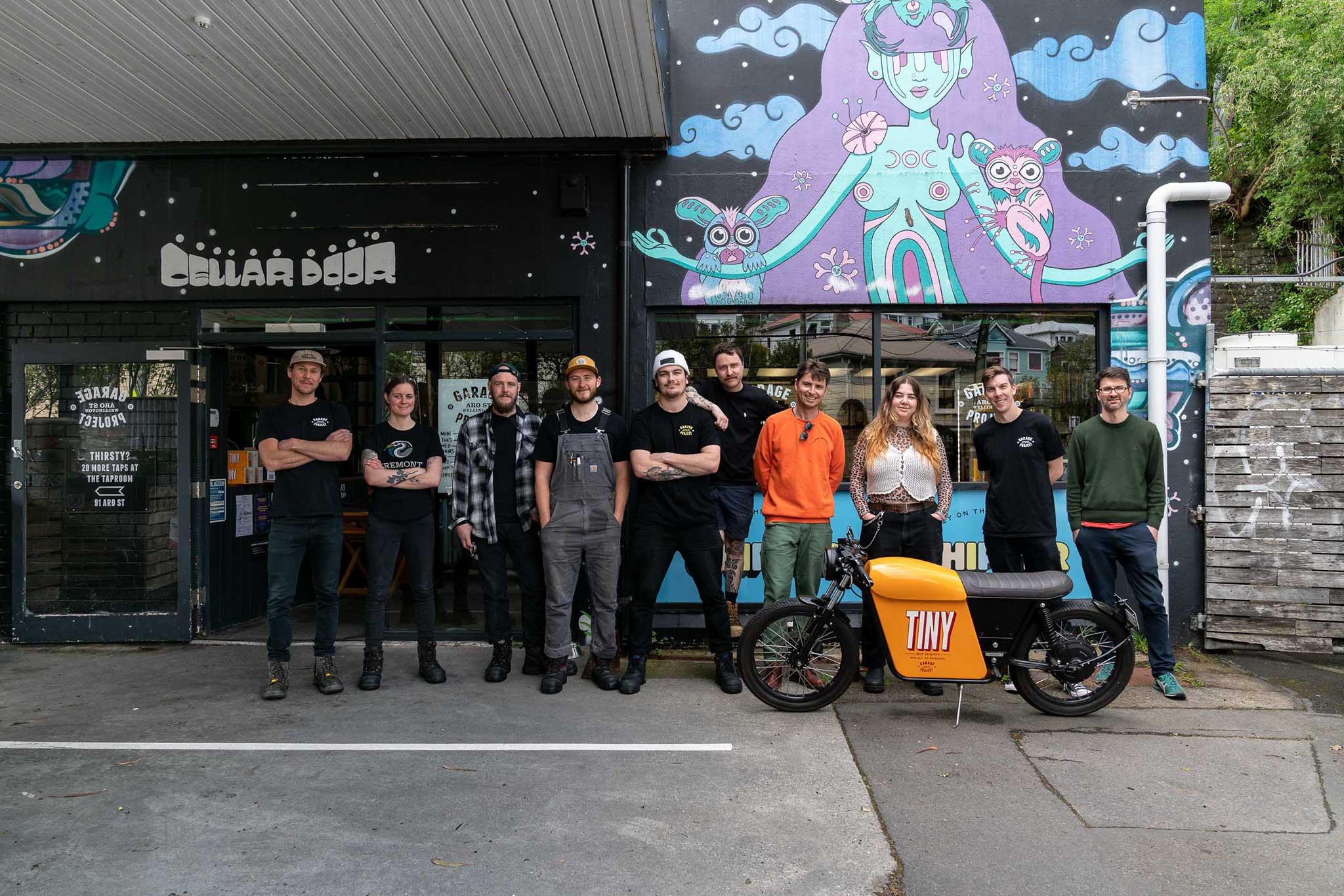 As well as minimising emissions, Garage Project offsets all the carbon they create with locally sourced rainforest carbon credits, courtesy of Ekos. The delicious drinks we all love have their own share of environmental impact - requiring considerable use of natural resources like water and natural gas, transport (both raw materials and finished goods) as well as the waste produced through the brewing process. Garage Project also helps its staff to support their mission by making a $300 contribution towards their employees buying a bike or an electric scooter. And when a bike or walking doesn't quite cut it, they've got Mevo.
"I have always said Wellington is great because it has everything you want from a City with a Village feel."
Crocky wants to see more bike lanes, sidewalk seating, and a better grown-up version of Courtenay Place. If companies like Mevo and Garage Project are anything to go by, Wellington could well be on the right track to achieve this vision.