Member Profile
Tricia Pacifico
timer
| | |
| --- | --- |
| home | Lyall Bay, Wellington |
| work | Engagement & Comms Advisor |
| directions_car | Car-free |
| event | October 2021 |
| trending_up | 3-4 Mevo Trips/Week |
| commute | Walking, Bus |
Meet Tricia and her doggo Hattie. Today she's also taking care of Nina; Hattie's bestie since they moved back to Wellington.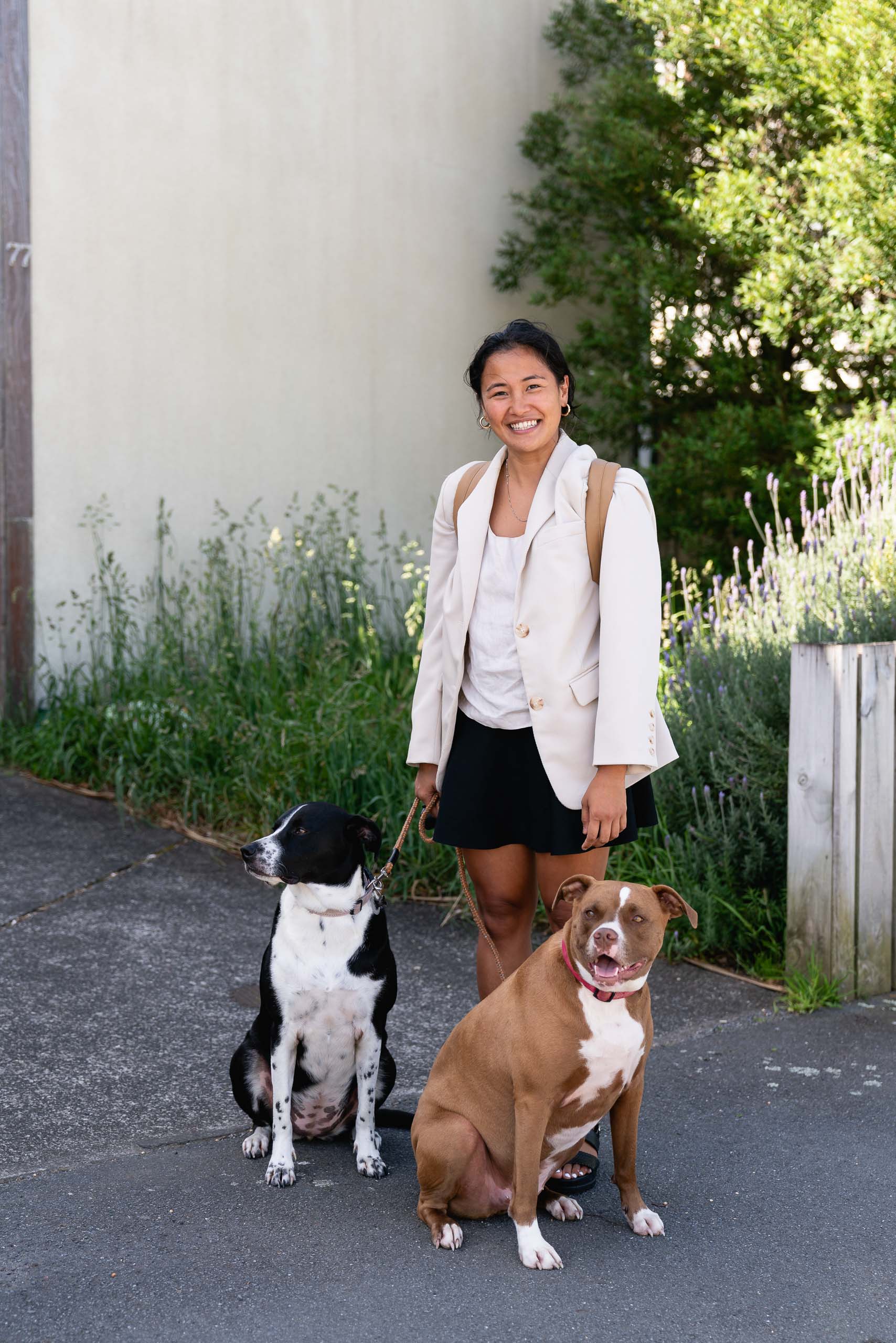 Tricia makes the most of Mevo's service being pet-friendly. As long as the car is left clean and tidy, furry friends are welcome to join the ride.
After a self-imposed isolation in Hawkes Bay, Tricia returned to Wellington with her rescue dog Hattie in 2021.
Moving back to the capital, two problems struck Tricia; not having a car, and trouble finding a rental that permitted pets. Co-ownership became the answer for the house and the dog. Mevo filled the car needs, and now Hattie has three parents and a new sister Nina. Hattie and Nina live between three houses making dog ownership much easier.
"Mevo just makes sense"
Tricia uses Mevo in many ways: to get across town, the overnight rate to get home from Muay Thai, and her favourite way - to pick the dogs up and take them for adventures around Pōneke. The girls are spoiled from being taken around Mākara, Kaiwharawhara, Island Bay, Houghton Bay and all the other dog-friendly places in Wellington.
"Car-sharing is the future."
She loves the freedom it gives you and the range of cars, getting to drive cars she would probably never own - especially on the Mevo fleet.
"The Polestar, the Tesla, the BYD – experiencing them without owning them is good enough. Luxury at my fingertips, and for a short trip, it's the same price as a Polo!"
Tricia believes in what Mevo is trying to achieve and thinks we should share more as we don't need to own everything. Tools, cars, books - shared resources make so much sense.
"I believe the world is shifting, making fewer products that are better quality and accessible when we need them. This means less waste and better use of the world's resources. I really like how Mevo is almost like designing out waste and getting us closer to a circular economy. In this city, it's not hard to find like-minded people who are passionate about te taiao (the environment)."
Tricia's favourite part of this city is the diversity among its inhabitants. This means she gets to share Hattie with a DJ and a tennis teacher! Tricia has high hopes for the city and wants to see it thrive.
"I would really like to see a lot more community-based approach in tackling problems – as well as bringing others up with us when we see opportunities to grow and thrive, without the expense of others or the environment. I look forward to similar schemes like Mevo - and possibly taking my first trip in Auckland next week!"