Business Profile
Copo
Wellington Property Management
timer
| | |
| --- | --- |
| business | Courtenay Place, Wellington |
| people | 5-10 |
| event | February 2021 |
| trending_up | 10+ Mevo Trips/Week |
| widgets | Site Visits |
Copo is a property management firm that uses Mevo for its transport needs. Greeted by Niall, the owner and fast-talking Irishman, our conversation was off to a good start. Niall started Copo over 15 years ago after falling into the space while looking after a friend's property. Niall shared the secret sauce of good property management - treating property owners like partners, not just a number. Equally, their tenants are your clients. If partners and clients are happy, Niall and his staff are happy. Niall's employees make or break his business, so he looks after them by focusing on them and being one big family.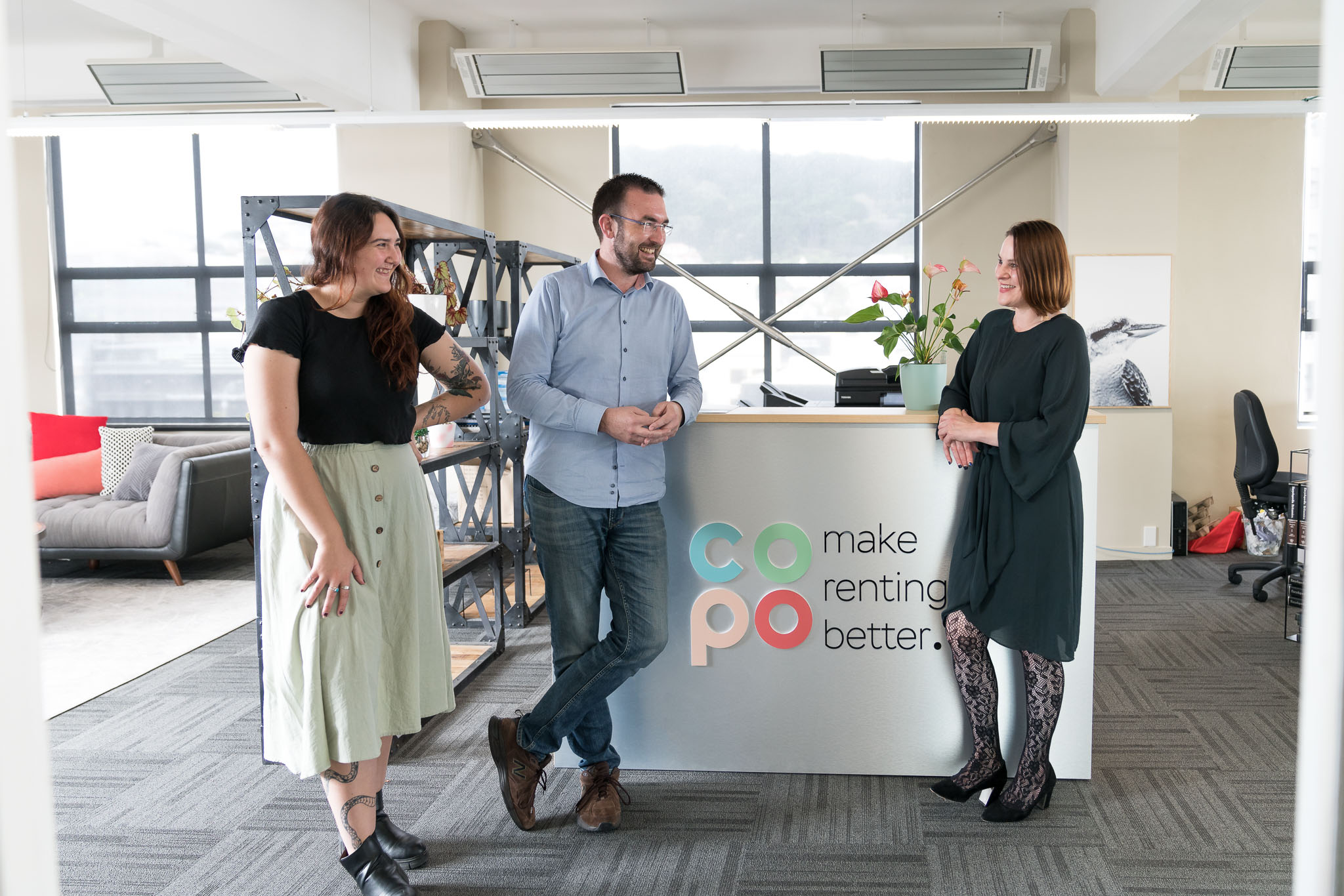 "Just do it right - focus on the people."
When Niall first heard about Mevo, Copo had pool company cars with their logo and branding. They also had parking spaces included in their rent, and employees who used their own vehicles for business trips from time to time. He didn't need Mevo - or so he thought. Slowly, things started to not add up around owning the cars: Copo was moving to a new location with no parking spaces. The timing lined up with the vehicle leases coming to an end. His own car needed at least a month's worth of work. And to top it off, the increasing cost of filling the pool cars and reimbursing staff for petrol was starting to add up. A quick back of the napkin calculation showed that this model didn't quite make sense.
"Owning cars just didn't stack up any more."
When Niall looked at the monthly numbers for each of the pool cars he got a shock: a $600 lease, $300 parking space, $200 in fuel, $100 for parking around town, and $60 for insurance. Then add a $60 WOF and $300 service each year - too much money. This is even before multiplying by four: $1,260 x 4 = $5,050! Over $5k per month, and that's before any reimbursing of staff when they used their own cars. Niall also noticed that the pool cars would spend a lot of time just sitting in their car park - but he needed four to cover the peaks in his team's travel. This was consistently being compounded by down time that seemed to happen right when the team needed the cars - servicing, repairing damage, and other ongoing fleet management. Niall realised he could use this money to look after his employees better and get a nicer office by reducing his travel costs significantly - enter Mevo.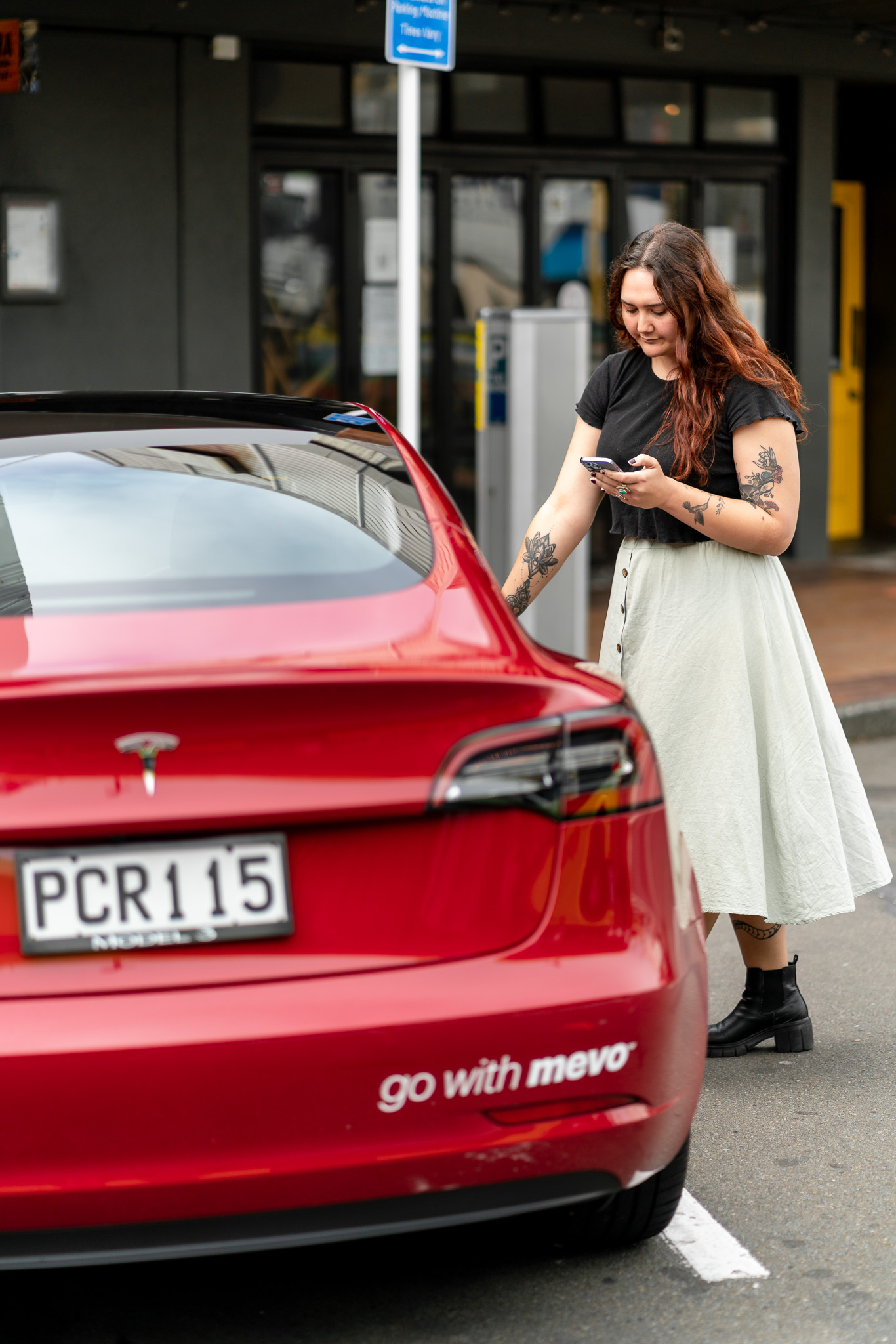 "Mevo just made more sense. There were always cars available. And they are nice cars. Easy to drive, small and easy to park in the small Wellington streets. And it looked good turning up in the sleek cars."
Copo signed up for a Virtual EV Fleet subscription for $950 + GST per month. This gives them access to a shared pool of Mevo credit to use between their drivers each month during business hours. The team can take as many cars as they need on given day, and aren't using their credit on days they don't travel. So far, this is covering their team's transport needs for less than the cost of one of their four pool vehicles. Niall also knows that when his team grows, it's easy to tack on additional virtual vehicles to increase the monthly pool of credit. Mevo also means less admin time for his staff - they no longer have to record their use of the pool or personal vehicles into an expense system. Instead, they can tag their trips with job codes in the Mevo app and get a streamlined report each month of where everyone drove. Everyone gets time back. Niall doesn't own his computer servers anymore, so why would he own his cars?
"They are just outside - it's so easy."
Niall trialled taxi companies instead of owning cars, but this caused his team to be waiting around and unable to control their time. As property managers they often go to many suburbs in Wellington, and Mevo means they can get from A to B, and then on to C and D before heading back to A in whatever time frame suits them. This type of flexibility is what they needed.
He's not worried about losing the branding on the side of the cars, either. Despite the number of companies in the property space who have their names on car doors - Niall knows that real estate and property management is a people game. Someone isn't going to hire you if you see your name on a car. They'll hire you if someone they know has had a great experience with you or they trust you when they meet you. As Niall says - "Just do it right - focus on the people".
Read more about Mevo for Business, which Niall uses to manage his team, subscriptions and reporting. The Copo team have a Mevo Virtual Fleet Subscription to access bulk credit packages for a fixed monthly price.
If you need some help with your property management, get in touch with copo.nz.